A passionate advocate for environmental protection, regenerative agriculture, and animal welfare, Teri is a singer/songwriter and the author of the musical, "Seasons of the South – The Original Home Grown Musical and Storytelling Show©". She is a listed songwriter in the Institute for Composer Diversity, a database of composers from historically underrepresented groups.
Celebrating the natural beauty of the South, the show was created to help raise awareness for regenerative agriculture. The performance honors Earth Day and was an official part of the Earth Day networks site. "Seasons of the South©" is filled with original and inspiring stories, poetry and songs. Spanning the lyrical genres of the South, this new and fresh production features original and old-time favorites to touch hearts and souls.
The inaugural performance on the stage of the Kershaw County Fine Arts Center in historic Camden, South Carolina was on Earth Day, April 22, 2014. The cast was invited to return on Friday, April 17, 2015, and the opening reception of Teri's accompanying fine art photography solo exhibition was held to coincide with the performance. Her "Celebrate Nature, Celebrate Life" solo exhibition was held from April 17 – May 8, 2015 in the Bassett Gallery of the Fine Arts Center.
One of Teed's fine art photographs "Reflections on Black Creek", created at Kalmia Gardens in Hartsville, South Carolina and part of her solo exhibition that accompanied the second performance of "Seasons of the South©" , is the cover art for her first indie book Mystical South Carolina: A Pilgrimage to Joy which debuted in October 2019.
Teri writes and performs her original folk/bluegrass/Americana songs celebrating the South including "What is the South", "Take Me Back to Carolina", "Back Where the Rhododendrons Grow", and the heartwarming tribute to a Civil War family and forgiveness "Candle for John".
Please enjoy this live recording of "Take Me Back to Carolina" by Teri Leigh Teed (vocals/mandolin) and the East of West band from the premiere performance of the "Seasons of the South©" show.
"The greatest fine art of the future will be the making of a comfortable living on a small piece of land." ~ Abraham Lincoln
The Making of "Seasons of the South©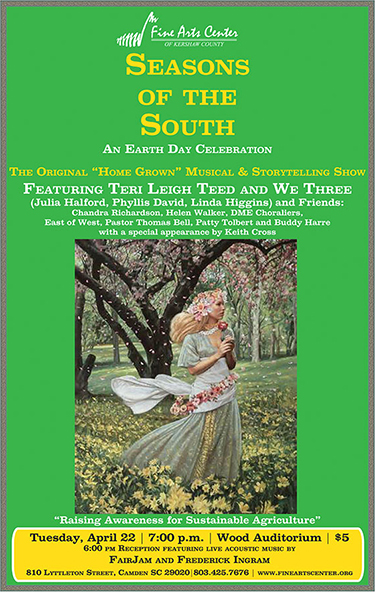 In 2013 my dear friend Phyllis David invited me to read some of my poetry and stories and sing one of my songs at a Lenten dinner service at her local church, Lyttleton Street Methodist. Phyllis is part of We Three, a vocal group of three lovely ladies who have been performing together for over 20 years.
Along with the trio's Director Julia Halford (vocals/piano) and Linda Higgins (vocals/percussion), Phyllis (vocals/guitar) and this inspirational group bring their classical training and easy listening songs to venues from restaurants to churches and nursing homes, and spreading love and light everywhere they go.
And so "Seasons of the South" the show was born.
During the summer of 2013, I had the opportunity to play the mandolin I had purchased as a gift to myself for Christmas 2012, and sing several songs I had written along with some kind hearted and patient local musicians at a local coffee shoppe and tea room in downtown Camden. I took the self-taught path to learning the mandolin and it is a fun, ongoing process. Having enjoyed listening to bluegrass and folk music since childhood, the urge to purchase a mandolin and learn to play at the age of 55 is still somewhat of a mystery that I simply chalk up to Divine Inspiration. Wanting to be able to perform one's own songs is a natural thing I guess.
In August of 2013, We Three and I performed "Seasons of the South" at Palmetto Coffee Shoppe and Tea Room in Camden SC to a packed house to raise monies for Food for the Soul, our local homeless shelter. The Executive Director of this shelter, Fred Ogburn, is also a musician and now he and the band he performs with, East of West, is part of the "Seasons" cast.
Now, just two days after Easter Sunday 2014 on Earth Day, "Seasons of the South" is being performed at the Fine Arts Center in Camden, SC, with a much expanded cast including local musicians Chandra Richardson (vocals), Helen Walker (flute), Doby's Mill Elementary Choraliers, East of West (Fred Ogburn (percussion), Luke Williams (guitar/bass), Dan Rhodus (guitar), Jim Thomas (dobro)), Patty Tolbert (violin) and Buddy Harre (vocals/drums), with a special appearance by Keith Cross, a gifted singer/songwriter from California who is singing his original song, "Home Grown", about growing your own vegetables and fruit. And our local talented musicians are backing him up. The reception before the performance features more local musicians, FairJam (Scott Jordan (guitar), Bobby Joseph (caiphon), and Paul Hayes (mandolin/harmonica), and Frederick Ingram (guitar). Our emcee is Bishop Thomas C. Bell, who so graciously gave us a spot on his weekly radio show this Easter Sunday morning at 9:00 am on Kool 102.7.
Dedicated to raising awareness for regenerative agriculture, "Seasons of the South" is attracting interest throughout our community, state and region.
Like a beautiful butterfly, "Seasons of the South", the original Home Grown musical and storytelling show, has metamorphed and is now ready to be taken to other opera houses and auditoriums. Spanning the lyrical genres of the South, "Seasons of the South" is a performance filled with inspiring stories, poetry and songs celebrating the natural beauty of the South. As an artist, it is so heartwarming to see this show take flight and share in the joy of fellow artists and musicians who through their craft bring happiness to others.